Regular price
$1,699.00 USD

Regular price
$2,333.00 USD
Sale price
$1,699.00 USD
Unit price
per
Sale
Sold out
Share
Our premium 12 inch thick Biohacking Mattress is built for comfort featuring a hybrid support system consisting of an ergonomically molded foam base and is topped with a conductive graphite-infused memory foam for an enhanced sleep experience. This high quality blend allows the mattress to last up to 20 years and is rated FIRM with comfort. Unique to our Biohacking Mattress, our proprietary foam offers heat dissipation, thus providing a deeper and more restful sleep. For added peace of mind, we chose to design our Biohacking Mattress to be free of known cancer-causing chemicals, commonly found in competitors models. We were able to establish the benefit of antimicrobial silver by still upholding: The Standard for the Flammability of Mattresses and Mattress Pads 16 CFR part 1632. This is the mattress only: make the most of each rest by adding our revolutionary, grounded Anti Aging Bed Cover.  
Instructions

Locate the instructions inside your product's packaging or visit our Instructions webpage for detailed instructions.
Sizing

We provide sizing information for a variety of products. Review our Size Chart to learn more.
Return policy

All sales are final. We do stand by our products and will replace damaged products and those with manufacture defects. International orders are not eligible for refunds.
Shipping

Orders typically ship within 5 days and delivered within 3 weeks. Additional shipping fees apply for HI, AK, and other areas outside the lower 48 states. International Customers are responsible for paying all customs and shipping fees and are not eligible for refunds.
Disclaimer

All other statements have not been evaluated by the FDA. This product is not intended to diagnose, treat, cure, or prevent any disease. If you are pregnant or have a pacemaker please contact your doctor before purchasing.
View full details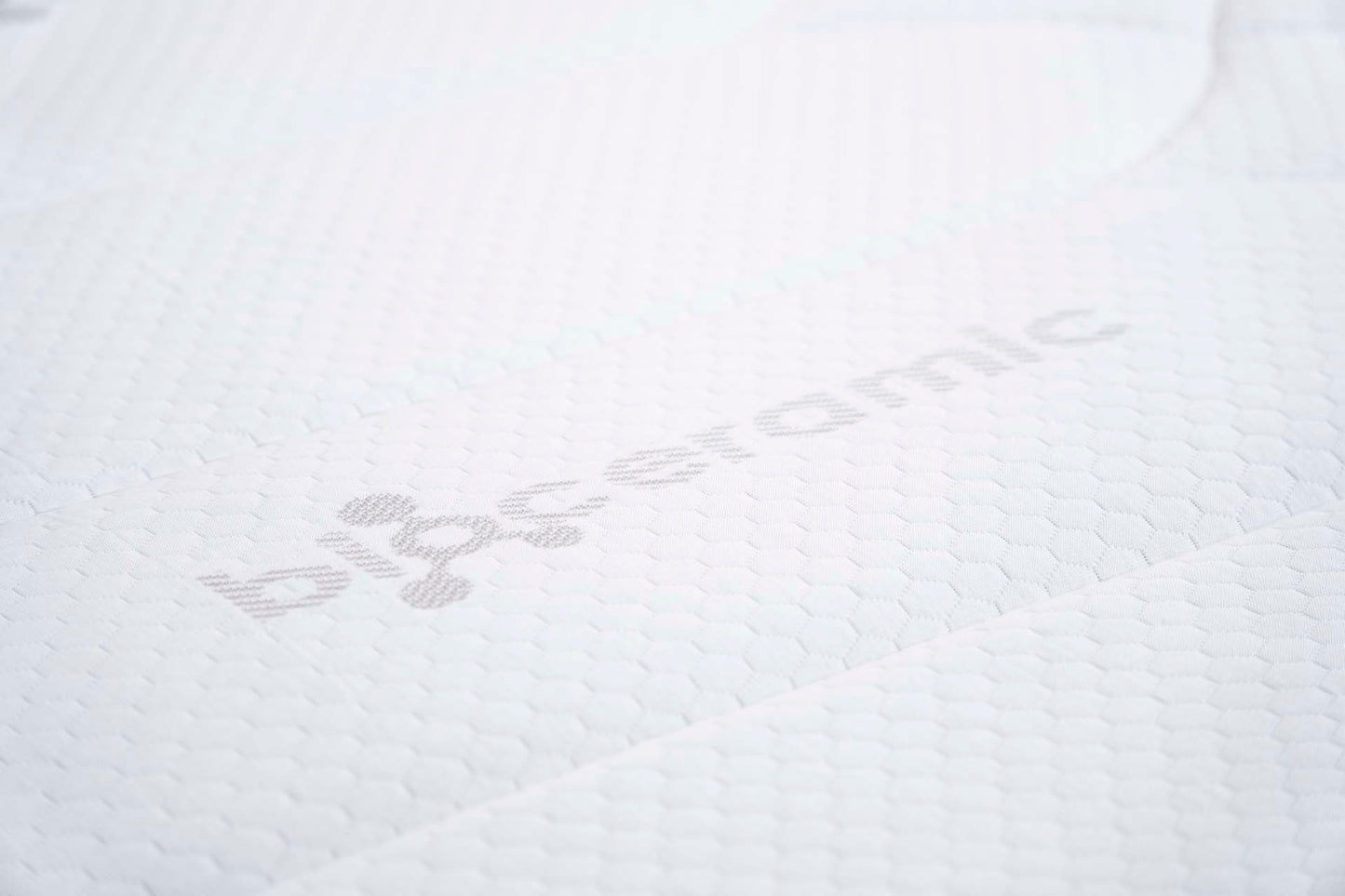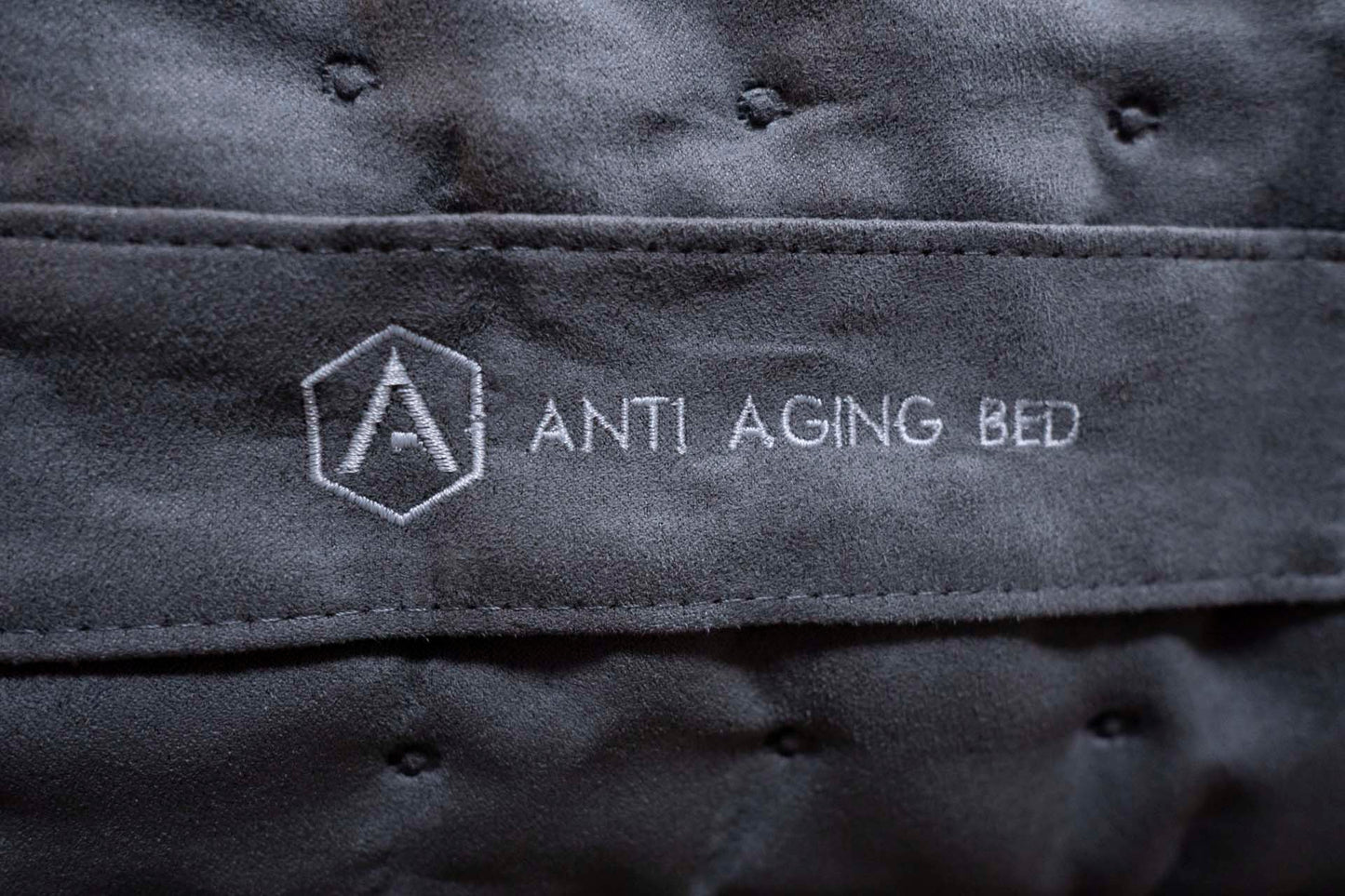 What "Big" Mattress Is Hiding
Traditional mattress companies pay millions of dollars to hide unsafe chemicals, questionable manufacturing, shady foreign production, and much more. Each puts you and your family in danger, but luckily there's a better option for you.
The Right Choice Is Clear
Anti Aging Bed
Tempur-Pedic
Purple
Eight Sleep
Starting Price


Comparable Twin XL Mattresses

$1,699
$3,949
$2,199
$3,395
Cushioning Thickness
12"
8"
8"
9"
Comfort Layers

5

X

2-4

X

Free Of Cancer-Causing Chemicals

✓

X

X

X

Ethical Business Practices

✓

X

X

X

Endorsed By Doctors

✓

X

X

X

Made In The USA

✓

X

X

X
Comfort Layers That Soothe
1. Soft-Touch Fabric Topper
Provides a luxurious and breathable finish.
2. Plush Graphite Memory Foam
The first cushioning layer keeps sleepers cool.
3. Plush Traditional Memory Foam
Added support alleviates joint stress.
4. Medium Density Traditional Memory Foam
Distributes weight to reduce pressure.
5. High-Density Traditional Memory Foam
This comfort foundation is built for stability.
6. Stretch Fabric Base Liner
Encloses and protects all comfort layers.
Relieve Pressure Points
Best for side sleepers or those that toss and turn at night. Features Hybrid Memory Foam for pressure point relief on your hips and shoulders.
Perfect For Side Sleepers
Our most popular feel choice - not too firm, not too soft at the top of your mattress. Great for couples with different feel preferences.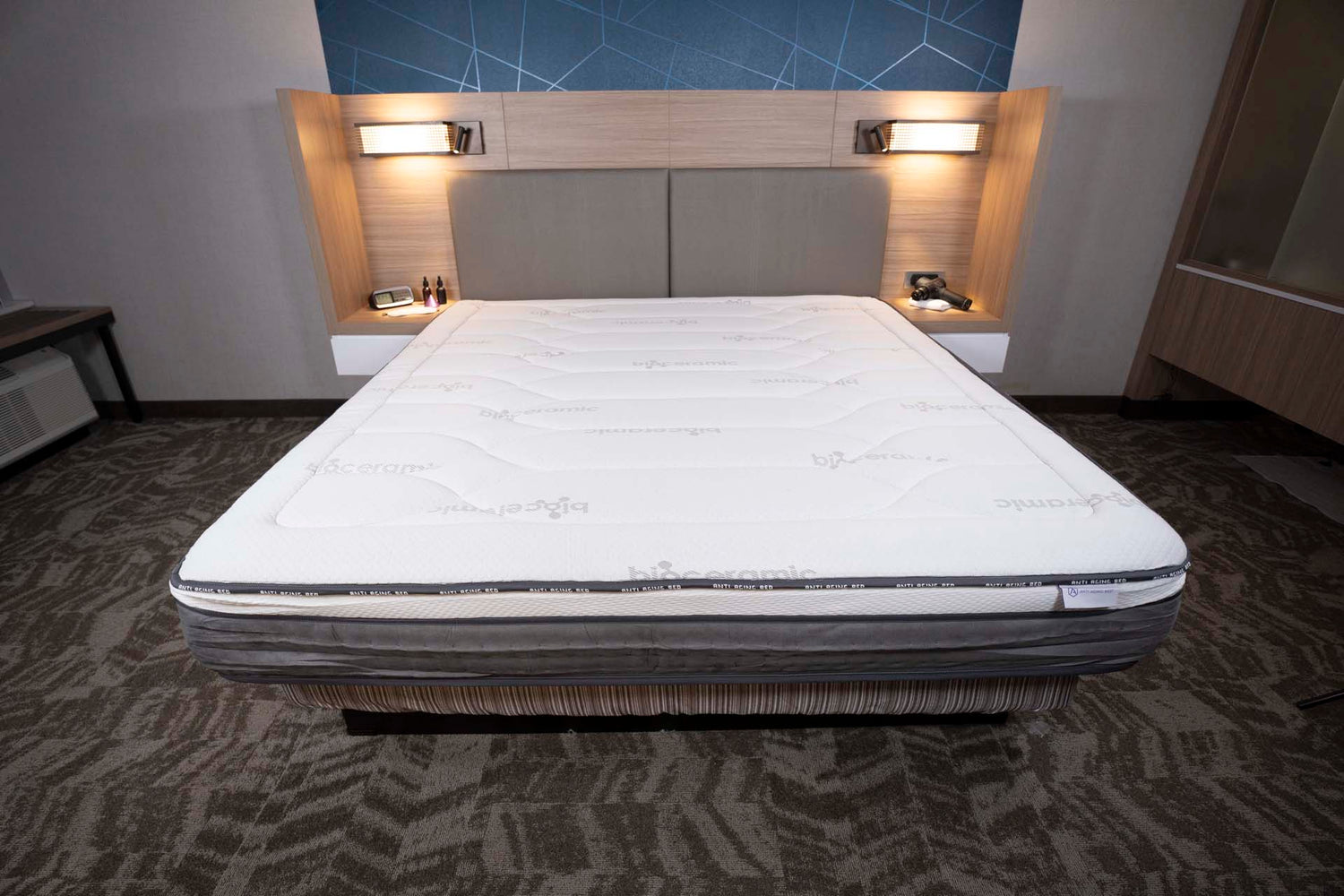 Cooling Comfort Layers
Keeping cool makes falling and staying asleep faster and reduces tossing and turning for better sleep night after night.
Have Questions? Help Is Here
Talk to a product specialist at the official Anti Aging Bed showroom now. Ask our trained professionals your most pressing questions to get the help you need when shopping.
As Seen On & Featured In
Top Doc Clinics

American Academy of Anti-Aging Medicine

Health & Freedom Conference

Four Seasons Hotels & Resorts

PPN

Biohacking Congress
Join The Wellness At Home Revolution
Be apart of our caring community and help us make the world well again.
Sleepers Love This Mattress
Lucie F.

★ ★ ★ ★ ★

"I'm completely satisfied with my purchase. I rest better without sinking, much less tossing and turning, and makes my pain issues easier to live with."

Angela B.

★ ★ ★ ★ ★

"We've loved this mattress from the first time trying it. Totally WORTH the investment! The bed is a dream. The cooling effect is great for us hot sleepers."

Andrew L.

★ ★ ★ ★ ★

"I'm always hot when falling asleep. I've tried many mattresses before and was very skeptical. After only two weeks, I've fallen in love with this mattress and its cooling sensation."

Lenny N.

★ ★ ★ ★ ★

"This mattress was bought for our master bedroom. At first we didn't like it, but they told us to use it for at least a month. Well we waited and they were right, it helps us sleep really well."

Billy H.

★ ★ ★ ★ ★

"I enjoy a firm mattress and a cool feel, so this was my top pick. I also loved that it was on sale. We've had other brands before, now we only use Anti Aging Bed. No complaints so far."

Sonia B.

★ ★ ★ ★ ★

"Been trying to figure out why I didn't buy this matress sooner. Love it so far, and it's not even "broken in" yet!"
Real People, Actual Results
Medical Professionals Recommend It Too
Dr. Fab Mancini

★ ★ ★ ★ ★

"I love this mattress because it's so comfortable. My patients feel an immediate benefit on their back and joints. You will too!"

Dr. Greg Carder

★ ★ ★ ★ ★

"As someone who sleeps hot and moves around a lot, this mattress is a game changer. It conforms to you and fully supports your body. I highly recommend this mattress."

Dr. Megan Pasookhush

★ ★ ★ ★ ★

"I can't say enough positive things about how this mattress has transformed my patient's sleep. Absolutely recommend."
Creating Your Perfect Wellness Solution
By using our patented offerings together, you enhance and extend each of their benefits. This freedom of choice ensures your unique wellness needs are always satisfied.
Build A Bundle That's Right For You